NEW WEBINAR: What the NEP for isocyanates means for you
Posted on May 06, 2014
Every year, the Occupational Safety and Health Administration (OSHA) creates a new program that draws attention and resources to a different health or safety issue.
As of June 2013, OSHA launched a new National Emphasis Program (NEP) to identify and reduce or eliminate the incidences of adverse health effects associated with occupational exposure to isocyanates—whether from direct skin contact or respiratory contact from airborne exposure.
The NEP will combine enforcement (through fines) and outreach efforts (through training) to raise employers', workers' and Health and Safety professionals' awareness of health effects associated with occupational exposure to aromatic (TDI, MDI,NDI), aliphatic isocyanates (HDI, HMDI, IPDI) and mono-isocyanates (MIC).
At BASF, we're committed to educating our customers as much as possible, especially when it comes to safety. So we put together a two-part webinar series highlighting what the program is about and what companies who work with isocyanates can and should be doing to prepare for a random vistit from OSHA.
Part I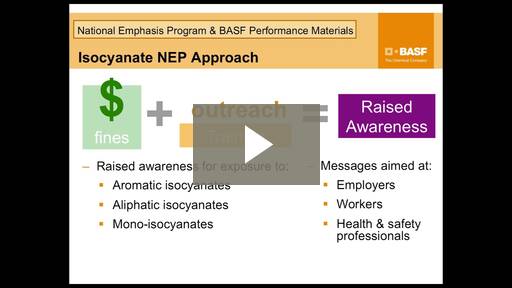 Part II